Videria
Political Information
Continent
Region

Northern Phaara

Type of Government

none present

Ruler

none

Societal Information
Capital

none

Population

approx. 340,000

Demographics
Official Language
Currency

Phaaran Coin System where money is used

Primary Religions
Historical Information
Policy Information
Allies
Enemies

none

Imports

none

Exports

none
The Whyspering Wood is the more commonly used, but unofficial, name for the wild area of Videria. Videria is a political non-entity on Elara. There is no government, no ruler, and no single dominant species. In fact, most civilized species attempt to avoid the Whyspering Wood as much as possible, as it is populated by the enchanted races, such as Brownies, Fairies, Wood Elves, Centaurs, Ogres, and the like. It is located north of the River Ryne, beyond the land of Fairan. Where the terrain isn't mountainous, it is almost exclusively forested.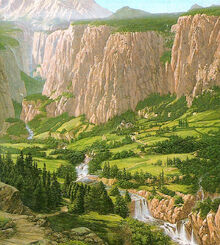 Ad blocker interference detected!
Wikia is a free-to-use site that makes money from advertising. We have a modified experience for viewers using ad blockers

Wikia is not accessible if you've made further modifications. Remove the custom ad blocker rule(s) and the page will load as expected.