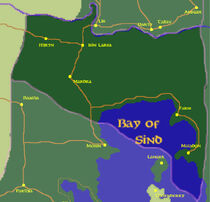 Chacyr is one of the fourteen provinces that the country of Koridan has been divided up into for administrative purposes by its government. Chacyr is an eastern province, occupying the territory south of the Eternal River, but north of Rala province. The southern part of Chacyr contains the upper section of the Bay of Sind. West are the grasslands of Rath Koridan province. Travel eastward crosses the border into the country of Praedon. Due to the fact that Chacyr is almost entirely forested, its main economic focus is the lumber industry.
The provincial captial of Isin Larsa is where the governor, Fen Loro, resides.
Ad blocker interference detected!
Wikia is a free-to-use site that makes money from advertising. We have a modified experience for viewers using ad blockers

Wikia is not accessible if you've made further modifications. Remove the custom ad blocker rule(s) and the page will load as expected.