Bun Tayesh
Political Information
Region
Type of Government

Autocratic Monarchy

Ruler

King Gorbash Steelclaw

Government Stability

Unstable

Societal Information
Capital

Bun Tayesh

Population

43,000

Demographics
Official Language

Gnoll

Primary Religions
Historical Information
Formed From
Year of Founding
Policy Information
Allies
Bun Tayesh is a gnoll kingdom located in the Shattered Peaks in Nurador. It was once a dwarven hold called Karal Dol, but fell to gnoll hordes in 503 LC.
Bun Tayesh has a loose alliance with the nearby goblin kingdom of Black Rock.
Life and Society
Edit
Major Geographical Features
Edit
Shattered Peaks: s
Important Sites
Edit
Bun Tayesh: The subterranean city of Bun Tayesh is home to more than 30,000 gnolls, as well as some 8,000 slaves of various races, including dwarves and humans.
Regional History
Edit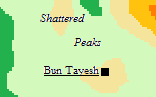 Ad blocker interference detected!
Wikia is a free-to-use site that makes money from advertising. We have a modified experience for viewers using ad blockers

Wikia is not accessible if you've made further modifications. Remove the custom ad blocker rule(s) and the page will load as expected.