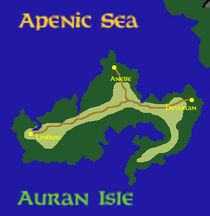 Auran Isle is the southernmost of the two large islands claimed by Koridan off its coast in the Apenic Sea. It lies slightly south of the Iryn peninsula and the mouth of Mrala Bay.
Auran Isle is officially one of the provinces of Koridan, and contains three settlements; Anelle, Lindon, and Devoran.
Ad blocker interference detected!
Wikia is a free-to-use site that makes money from advertising. We have a modified experience for viewers using ad blockers

Wikia is not accessible if you've made further modifications. Remove the custom ad blocker rule(s) and the page will load as expected.